William Scarrow, Chemist, Sunderland 1826-1890
William Scarrow was born on 4th September 1826 in Carlisle St. Cuthberts. His father was John Scarrow the Carlisle Spirit Merchant. He had four sisters, Frances, Jane, Joanna and Sarah.
In 1841, aged 15, he was resident at Page Hall in Penrith. In 1841 the head of the Page Hall household was John Hallifax, a schoolmaster. William was one of five scholars listed at the property. Samuel Plimsoll was also a resident at Page Hall around this time.
In 1851, aged 25, he was working as an assistant druggist in 7 Pall Mall East, Westminster for William Hooper, Chemist and Druggist.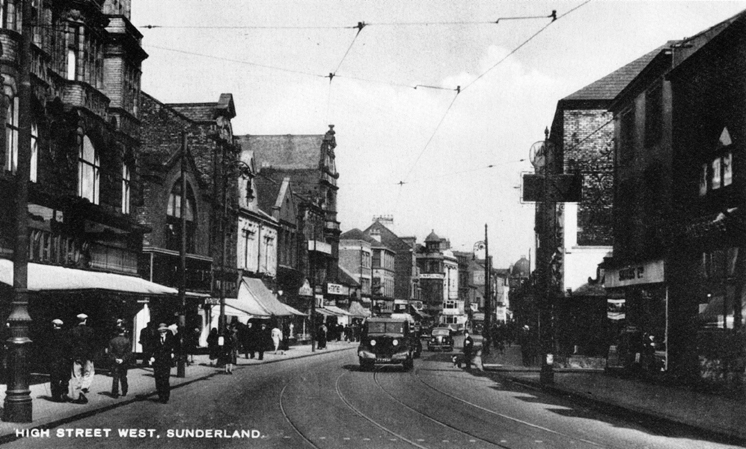 Two years later, in 1853, William Scarrow was running his own Druggist and Chemist's at 147 High Street West, Bishopwearmouth (Sunderland). He had succeeded the previous occupants, Vint (J) and Co., with whom he was to have dealings in the future. Co-incidently, the shop next door (148) was owned by Vints and Carrs, a Printers and Stationers.

By 1861, he had been joined at 147 High Street, by two of his sisters, Joanna and Frances. He ran the chemist's until 1870, at which time he sold the business to George Cockburn.
He and his sister Frances moved to 11 Salem Street South, south of the High Street, at which time they had been joined by Sarah, the remaining sister. The 1871 census recorded William, and his sisters Frances and Sarah, as resident at 11 Salem Street South in Sunderland. William, aged only 45, was listed as a retired chemist. Interestingly, this part of the census was missing from Ancestry.co.uk when recently researched (Jan 2013). 11 Salem Street South still exists in Sunderland, but probably for not much longer as all but one of the houses are empty.
During the early part of his retirement, William was not idle, and marketed three products in the North of England. The first was a cold remedy called "Scarrow's Vint's Compound of Balsam and Honey". The other two products marketed under Scarrow's Vint's brand were an "Infant Restorer" and "Stomach Pills". As noted previously, Vints was both the former owner of the chemist at 147 High Street West and also the occupier of the printers next door (No. 148). These products were heavily advertised in the northern newspapers between 1874 and 1877. They then disappeared from view. If anyone has some of this stuff, or even an old bottle, we would really like to hear from you!
Around 1880, William, and his sisters Frances and Sarah, moved to the more genteel Azalea Terrace South, living at number 28. This still has the appearance of a very upmarket street, and was their final property in Sunderland.
William Scarrow died on the 11th November 1890 in Sunderland, aged 63. His sister Frances died three months later, leaving just Sarah in Sunderland. She survived another 13 years, dying in 1904, aged 84. All three siblings are buried in Bishopwearmouth Cemetery.
The images below show how Salem Street South (left) and Azalea Terrace South appear in 2013.
Although William never married, he did have a relationship with Mary Jane Clark. This resulted in the birth of his son Frederick William Scarrow Clark on 17th October 1869. During the period between 1869 and 1898, Mary Jane Clark was variously occupied as a Shopkeeper, General Dealer and Hosier. Frederick was initially working as Basket Weaver, and then latterly was employed as an insurance agent. Frederick was to meet with a tragic end as he died in a shooting incident, as reported here.