Robert Barnes Scarrow, Chief Engineer, Merchant Navy
Robert Barnes was born in 1883 in Harrington to George Scarrow, grocer, and Martha Dixon. Robert had an elder sister Anne Barnes, and three younger sisters Agnes Glaister, Jane and Martha Dixon.
During his childhood, and certainly in 1897, Robert was a member of Uncle Sam's Excelsior Band of Boys and Girls in West Cumberland. At this time he was living at 13 Quay Street, Harrington.
Robert was also a keen cricketer, and played for Harrington against Richmond in 1903.
Robert first started work as an apprentice on the 9th January 1899, with the company Ramsay Brothers of Albion Street, Whitehaven. Thomas and William Ramsay ran a mechanical and electrical engineering business. He finished his apprenticeship six years later, but stayed with the firm a further four months working as a fitter, before eventually leaving in May 1905. A picture of the premises, also known as the Phoenix Foundry is shown to the left.
It was in June 1905 when Robert first went to sea as the Fifth Engineer aboard the steamer Statesman. Over the next three years, on Statesman, Robert made regular trips between Liverpool or London, and Calcutta. Each round trip would take about three months, with anywhere between one and six weeks on shore.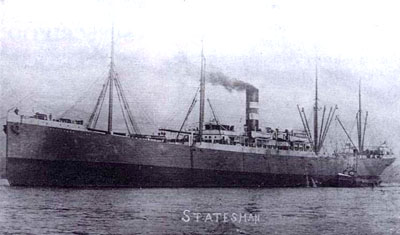 Robert was employed by T and J Harrisons of Liverpool. He would remain with this company throughout his career, with the sole exception of a posting on the steamer Colaba, owned by the British India Steam Navigation Company. By 1906, Robert had been made up to Fourth Engineer. In 1907, Robert obtained his first maritime qualification - that of Engineer Certificate of Competency, Second Class. By 1908, Robert was working as Third Engineer on the steamer Patrician, and by 1909 he had obtained his Engineer Certificate of Competency, First Class. Robert was by now living in Christian Street, Harrington, with his parents.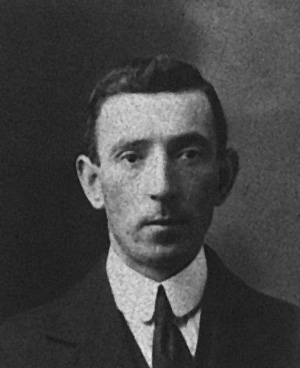 In 1914, whilst serving on SS Comedian, Robert was living at 113 Rosslyn Street, Liverpool. In mid 1914, Robert transferred as 2nd Engineer onto the steamer Inventor. Between the 8th August 1914 and 17th January 1917, Inventor was in service as a troop transport with the British Expeditionary Force, making numerous voyages between Southampton, Cowes and France. Exact details of the voyages are not given in the crew lists, but can presumably be found elsewhere.
In August 1917, Robert married Belle Davidson in Harrington. A year later they had a son, George Davidson, born around June 1918. The family were by this time living in Lingfell House on Church Road in Harrington. The ship below, SS Actor, was the steamer Robert was working on in 1918.
Robert worked as Chief Engineer on the steamer Songster in 1925, and all his subsequent posting were in this rank. Between 1925 and 1939, Robert travelled all over the world.
Robert's wife, Belle died on 11th May 1936.
Despite World War 2, Robert continued in the Merchant Navy, and transferred to the steamer Scientist in late 1939. Unfortunately, this ship encountered the German Raider Atlantis. Robert survived the sinking of the Scientist, but was subsequently less fortunate. On 22 September 1940, Robert Scarrow drowned when the ship on which he was prisoner, Tirranna, was torpedoed.
To view the next page about Robert Barnes Scarrow which deals with his certification, click here.