Mrs Joanna Scarrow, Teacher in Penrith and Carlisle
Joanna Scarrow, nee Barwise, was born on 10th January 1790 in Holme Cultram, Cumberland. She married John Scarrow, the spirit merchant on the 12th July 1812 at Carlisle St. Cuthberts.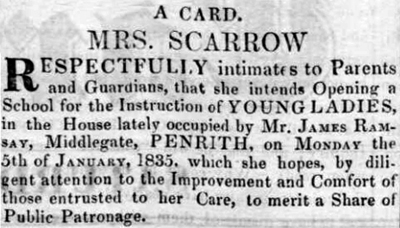 Joanna first went into teaching in 1835, which was two years after John Scarrow sold the Carlisle Spirit Merchant. Puzzlingly, the location of the new school was Middlegate, Penrith, some 19 miles south of Carlisle. The school opened on 5th January 1835 and Joanna ran it together with her daughters, Frances (born 1817), Jane (born 1819), and Joanna (born 1822). Joanna's son, William Scarrow was possibly also in Penrith at this time, as a scholar at Page Hall, Leath.
The image below shows Middlegate, Penrith around 1900, probably little changed from earlier times.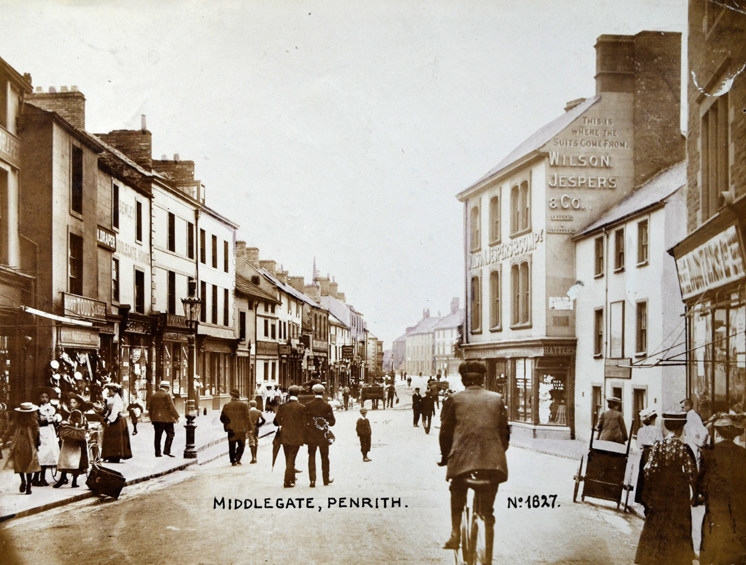 After five years of operation, in 1840, the school was transferred to Miss Taylor, and the Misses Scarrows moved back to Carlisle. 1840 was also the year in which John Scarrow, the husband and father, died.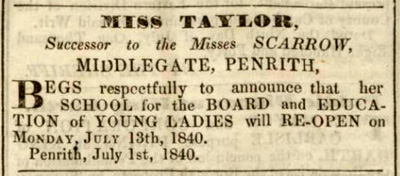 We have yet to find an exact opening date for the school in Carlisle, but the 1841 Census lists Frances and Joanna (Miss) as teachers, with Joanna (Mrs) as independent. Jane had died by the time of the 1841 Census, but its probable that she also taught.
So it is likely that the Carlisle school opened in late 1840, and was run by the three daughters - Frances, Joanna and Jane. William Scarrow remained in Penrith at this time, listed as a scholar at Page Hall, Leath in the 1841 census.
| | | |
| --- | --- | --- |
| | | |
| | | |
| The selection of adverts show the school opening with each new term. | | |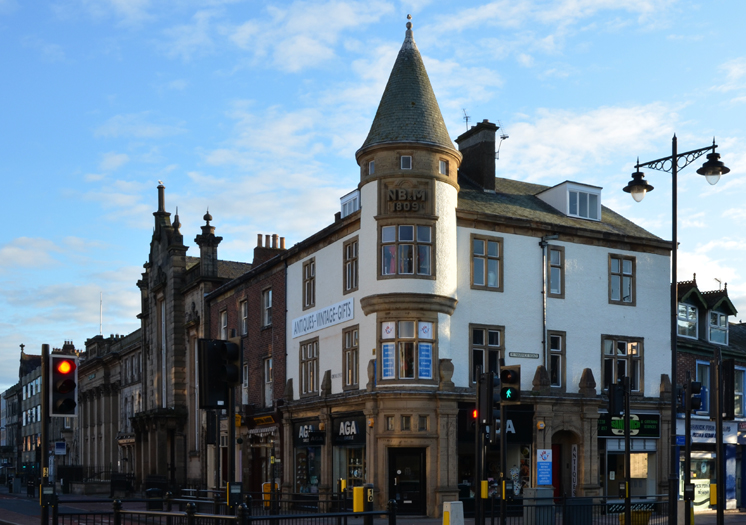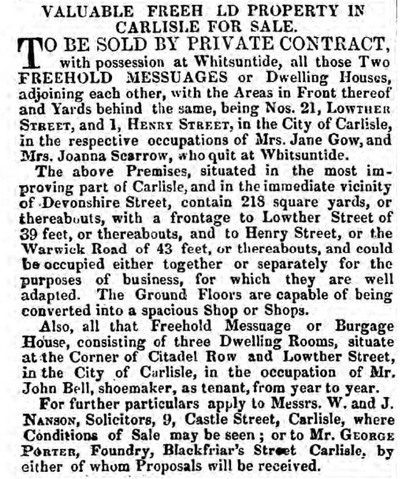 By the 1851 Census, Sarah (born 1824) was now also working as a teacher, presumably replacing her sister, Joanna, who had died in 1843 of tuberculosis at the young age of 22. The teaching stopped at some point in the early 1850s, and in May 1853, the house in Henry Street was put up for sale. Joanna Scarrow vacated the premises that Whitsuntide. The 1861 Census shows that Mrs. Joanna Scarrow and Frances Scarrow had gone to live with William Scarrow at his chemist's premises in Sunderland. Sarah Scarrow was still living in Carlisle at this time, but would join them later.
Joanna Scarrow died on the 3rd Novemeber 1862 in Sunderland. She was buried a few days later in Wetheral.