Scarrowhill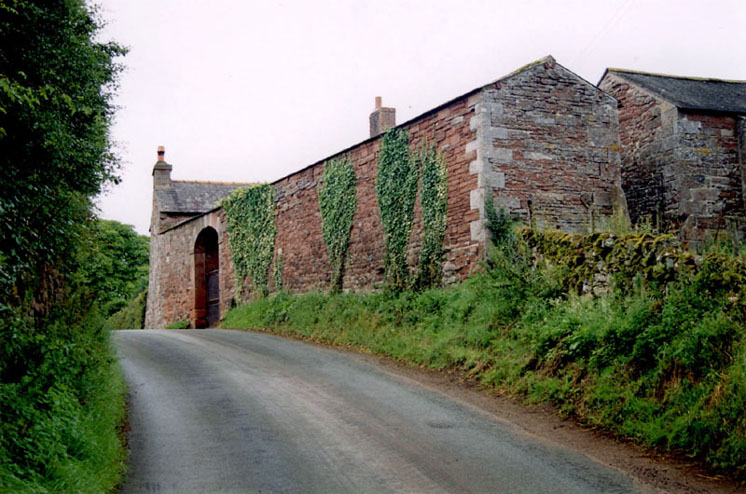 Scarrowhill is a small hamlet in the parish of Cumwhitton, to the south east of Carlisle.
Thomas Dentons Perambulation of Cumberland (1687-88) gives description of Scarrowhill:
Scarrowhill is a small hamlet in this parish [Cumwhitton], so called from a scarr or rock wheron it stands. The inhabitants here are freeholders. Here dwells a gentleman of that name [Scarrow], who is of an ancient familie, who hath an estate here worth 40li a year.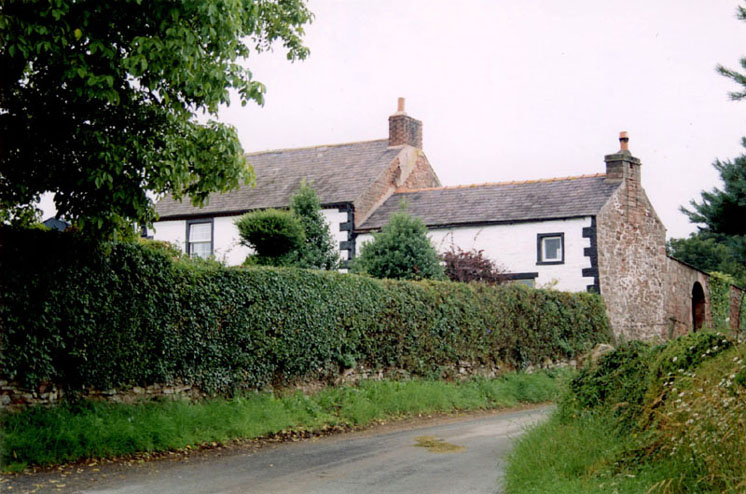 In the book 'Mediaeval Fortified Buildings of Cumbria' by Denis R Periam and John Robinson 1998, there is a reference to a stonehouse at Scarrowhill. The source is the Gilsland survey undertaken in 1603:
The Morefoote. Anthonie Scarrowe a stonehouse
The record of a stonehouse at Scarrowhill meant that there was a building with stone walls greater than 3ft thick, implying that it was a bastle (fortified farmhouse) or defensible building.
The map below shows the occupants of Scarrowhill in 1603, the data source again being the Gilsland Survey. As well as Anthonie Scarrow's stonehouse at Scarrowhill (grey building top right of photo) there were also stonehouses at Fitsgartholme (Robert Scarrow) and The Holme (Robert Earle).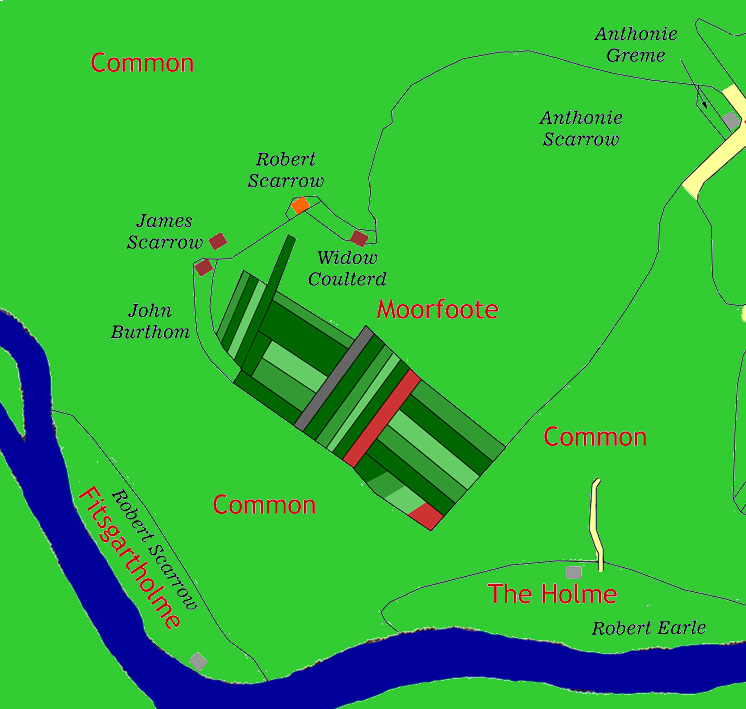 The map below shows Hornsby, which is South East of Scarrowhill in 1603 - back then it was called Ormesby. Anthonie Scarrow's stonehouse is shown again as the grey building on the left.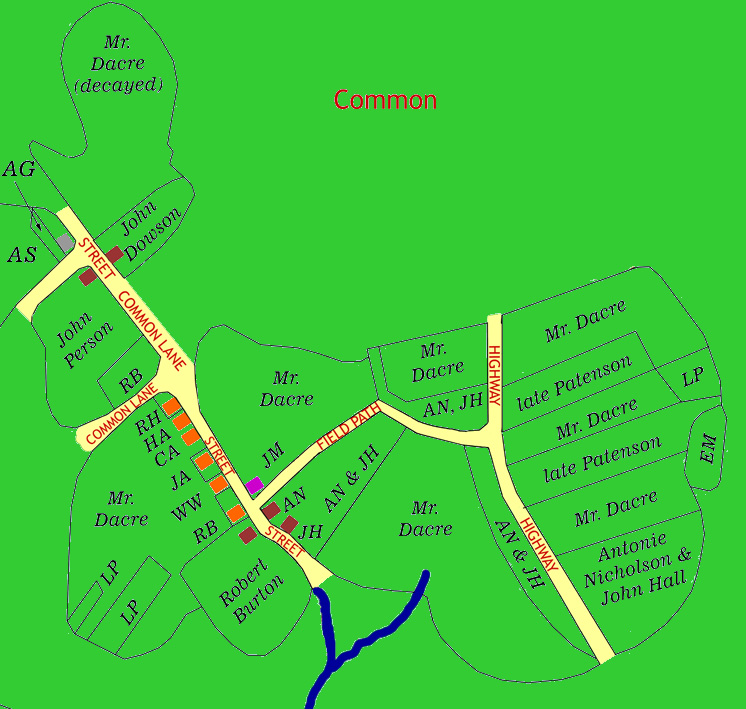 The table below is a key to the name abbreviations:
| | |
| --- | --- |
| AG | Anthonie Greme |
| AN | Anthonie Nicholson |
| AS | Anthonie Scarrow |
| CA | Christopher Atkinson |
| EM | (late) Elizabeth Mires |
| JA | John Atkinson |
| JH | John Hall |
| HA | Hugh Atkinson |
| JM | John Milburne |
| LP | (late) Patenson |
| RB | Robert Burthom |
| RH | Robert Hodson |
| TP | Thomas Person |
| WW | William Wallis |
For the complete picture of Scarrowhill, including Ormesby and Norskue, click here, which will open the picture in a new window.
Scarrow Hill, Naworth, Cumbria
There is also a second Scarrow Hill in Cumberland, and this a house is at Naworth, a few miles east of Carlisle and near to Brampton. It is assumed that the origin of this name comes from Scar Row, as in the locality also exists Low Row, Middle Row and High Row. The history of Scarrow Hill, near Brampton can be seen here.