Thomas Scarrow Junior, Farmer, Botchergate, Carlisle
Thomas Scarrow went into farming in the mid 1820's. In 1821-22 Commercial Directory of Ireland, Scotland and Northern England, Thomas Scarrow was still listed as a Wine and Spirit Merchant, in partnership with his brother John. The earliest reference we have for Thomas as a farmer is from the 1829 "Inhabitants of Cumberland and Westmoreland", in which Thomas Scarrow is listed as a farmer in Botchergate. A more exact date will only become apparent when the newspapers of the period (Carlisle Journal and Carlisle Patriot) has been digitised. The former has already been digitised for the period 1833-66, the latter between 1817-20, plus a few odd later years.
Thomas worked in farming until 1846, by which time he was 60 years of age. He, like his father before him, then moved into the innkeeping business, becoming the proprietor of the Caledonian Inn in Botchergate.
Thomas resided at, or near, the top end of Botchergate whilst he was working as a farmer - It is not completely clear as to whether he owned the land and property in Botchergate, or whether he rented it. However, during his lifetime, Thomas did sell and let various properties, so in all likelihood, he did own the land. Most of the land was used for arable farming, but Thomas also bred horses.
| | | | | |
| --- | --- | --- | --- | --- |
| | | | An advertisement from 1837, in which Thomas is trying to sell his farm produce, in this case, carrots | |
| | The advertisement to the right was placed in the newspaper on the same day as the one above. | | | |
| | | | The cutting to the left gives an indication as to the size of Thomas's farm. | |
During his time of farm ownership, there were at least two occasions in which items were stolen from Thomas's land. The first concerned some iron hoops, the latter carrots in a field.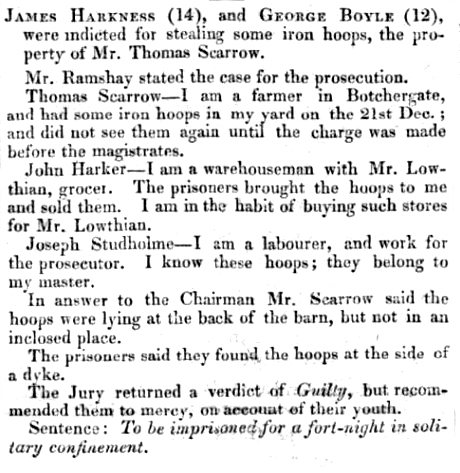 Iron Hoops Stolen
James Harkness (14) and George Boyle (12) were indicted for stealing some iron hoops, the property of Mr. Thomas Scarrow.
At the time, Joseph Studholme was working for Thomas as a labourer. He was called as a witness to verify ownership of the hoops.
The two boys were found guilty and sentenced to two weeks in solitary confinement. This seems a little harsh - how times change....
Carrots Stolen
The second case of stolen carrots was even more innocuous, but made the newspapers nevertheless. One can only assume that most of Carlisle's inhabitants were very law-abiding.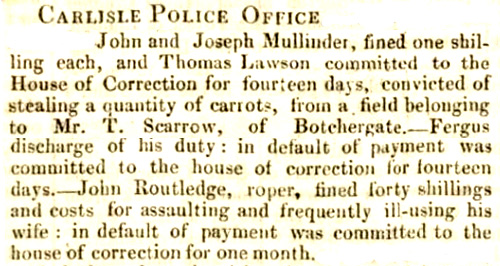 Three men attempted to steal carrots from Thomas. Maybe they should have planned it a little better. The punishment seems more in keeping with the crime this time. The case of John Routledge below is more interesting. What is meant by "ill-using" one's wife?
The next page about Thomas Scarrow Jnr deals with his work with Carlisle Council, where he rose to the position of Alderman. To view this page, click here.