Thomas Scarrow Junior of Carlisle
Thomas Scarrow was a prominent figure in Carlisle during the first half of the 19th Century.
Thomas was born/christened on 16 July 1787 in Scotby, Wetheral. His father was Thomas (Senior) Scarrow, also of Scotby, Wetheral. He had a younger brother, John and a sister Jane. Thomas married Frances Barwise of Holme Cultram on the 20th Jul 1807 at the age of 20.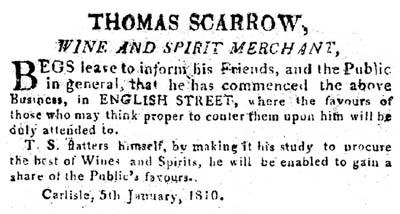 Thomas Scarrow opened up his first business in 1810, a Wine and Spirit Merchants in English Street, Carlisle. It would appear that he initially ran the business on his own, but quickly enrolled his brother John into the venture - in the 1810 Carlisle Directory, John has already been named as partner.
Thomas also went into the Bleaching business with his brother John, a company referred to in 1811, but not since. Fuller details of these businesses can be found on the page dedicated to John Scarrow, who at some point became the sole proprietor.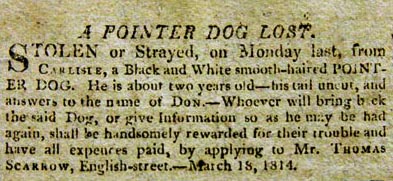 In 1814, Thomas posted an advert in the Carlisle Journal describing his pointer, Don, whom went missing. This was not an isolated incident, as adverts for lost pointers were common in the newspaper around this time. Of course, this dog may have belonged to Thomas's father, but evidence of Thomas's interest in game (Gaming certificates were issued on an annual basis, and those for 1814 list Thomas Scarrow), his ownership of horses, and his father's age of around 60 would tend to the younger Thomas.
Thomas and Frances did not have any children, and after eight years of marriage, on the 25th Dec 1815, Frances Scarrow died. She was buried in Wetheral as would be traditional for all the Carlisle Scarrow's of this generation.
Over the next five years, up to 1820, Thomas had three legal cases to deal with. In 1817, he was accused of trespass by Carlisle Council for building cellar steps at his premises on English St. In July 1818, he wrote a letter to the Carlisle Council by way of explanation.
The following year, on 9th Nov 1818, Thomas again was in court, this time for having fathered an illegitimate child with Jane Irving.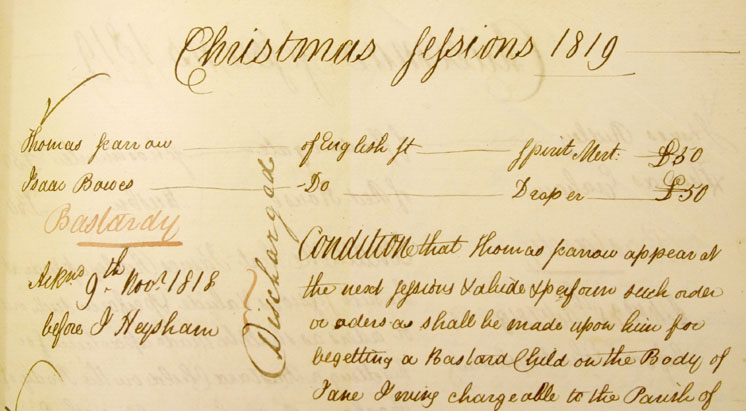 In 1819, Thomas appeared in court again, this time as plaintiff. The previous year, Thomas had been sold a horse by an Irishman called M'Annally. The horse turned out to be lame, and only by going to court Thomas get his money returned. The proceedings are described here.
Thomas married for the second time, to Margaret Pears of Brampton on March 9, 1820. Sadly, only three years later on the 4th May 1823, Margaret Scarrow, died. She was buried in Wetheral. Thomas married his third wife, Ann Strong, on the 7th June 1824, and they had a daughter, Frances, the day after. Phew!
By 1829, Thomas Scarrow had relinquished the Spirit Merchants to John, and was now listed as a farmer of Botchergate, Carlisle. Fuller detail of Thomas's life in farming can be found here.
Thomas's third wife, Ann Scarrow died 28 Feb 1833 in Carlisle, with his daughter Frances having died several years previously. Ann was buried in Wetheral. Life was tough in the early 19th Century.
Undaunted, Thomas married for a fourth time, to Margaret Frances Smith of Catterick. The wedding took place on the 10th Jan 1835. This proved to be both a longer and more fruitful marriage - Thomas and Margaret had five children together: Thomas, born 26 Jan 1834 in St. Mary's, Carlisle; Margaret, born 30 Nov 1836 in St. Mary's, Carlisle; Jane, born 14 May 1838 in St. Mary's, Carlisle; Jane Frances, born 16 Apr 1839 in St. Mary's, Carlisle; William, born 1841 in St. Mary's, Carlisle.
In November 1836, Thomas began a ten year association with Carlisle Council - he was elected as a councillor for Botchergate Ward, sitting on the Watch committee. He became an Alderman at the end of 1838 and served in this capacity until he left the council in 1845. This was the year in which time James Steel was elected Mayor. Thomas's council career is described here.
In 1846 Thomas retired from farming, and on the 6th March 1847, he opened the Lancaster and Caledonian Hotel at 12 Botchergate, Carlisle. Thomas's fourth wife, Margaret Frances Scarrow, died on the 21st Apr 1848 - the family at this time were resident at Peascod Lane, Carlisle, the house of James Rose, Thomas's brother-in-law. In the 1851 census, Thomas Scarrow, listed as a retired Innkeeper, was still living in Peascod Lane with James Rose and his son William.
Thomas died on 10th April 1856 whilst resident at South Henry St., St. Cuthberts, Carlisle - again the residence of his brother-in-law James Rose. <Thomas was buried in paupers grave in Upperby Municipal Cemetery, Carlisle despite his former standing in the community, and the relative wealth of the Scarrow's still in Carlisle.>
Thomas was survived by just two of his children - William who later moved to London; and Margaret who married Thomas Robson, a manufacturer, on the 26th Jan 1860.
The next page about Thomas Scarrow Jnr deals with his occupation as a farmer. To view this page, click here.