Thomas Scarrow, Shipwright of Harrington 1878 to 1837.
This page introduces the Thomas Scarrow, shipwright, and then looks in more detail at Harrington's Shipbuilding industry.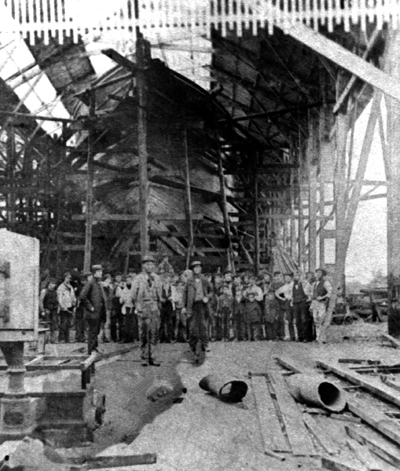 At the head of the Scarrow Mariners family is Thomas Scarrow, a shipwright, who lived in Harrington from around 1800. Thomas was born in 1778, but we have yet to establish exactly where. Around this time, there were Scarrows in many parts of Cumberland. We have also failed to discover details of his marriage to Ann, however they did have a son, John Scarrow, the first of the Harrington mariners born in 1802. They had two further children, George and Margaret, before Ann's death in 1810.
In 1814, Thomas got married to Mary Rudd, a widow from Harrington, and they had four children, including the future Master Mariners, Joseph and William. Of their other two children, Jane married the Master Mariner Daniel Hayton; and Thomas died in early childhood.
Thomas lived until 1837, and left everything to his wife Mary, with the usual caveat of her not remarrying. He had acquired a half share of a property in Peter Street, Whitehaven, this may indicate he resided their at some point. He mentioned two friends in his will - Henry Piper, mariner and James Elliot, cabinet maker; both of Harrington.
Harrington Shipbuilding
Thomas's occupation was that of a shipwright. Between 1786 and 1879 more than 150 ships were built in Harrington. The industry peaked in the mid 19th century when often six to eight ships were in the stocks simultaneously under construction.
The firm for which Harrington is most associated is Williamson and Co, but several other shipbuilders were active well before their arrival, and it is with one of these firms for which Thomas Scarrow probably worked. The two shipbuilders active before 1800 were Askew, Ellwood and Co; and Daniel Brough so we could assume that Thomas Scarrow worked for one of these two shipbuilders.
The table below shows the shipbuilding activity in Harrington from its inception in around 1786 to its conclusion almost 100 years later.
The dates quoted are based on the launches of ships and it is possible that the yards were also in operation outside of these years.
The raw materials for the shipbuilding trade were principally timber, copper, iron and hemp. The timber came from America and Canada. Copper and Iron were presumably sourced locally as both an Ironworks and Copperas works existed in Harrington. Hemp was imported from Russia for use in rope-making.
| | | |
| --- | --- | --- |
| Askew, Ellwood and Co. | 1784-1810 | This company introduced shipbuilding to Harrington, and their first ship, Content, was launched in 1784 |
| Daniel Brough and John Brough | 1787-1811 | Daniel launched Ulysses (1787) and Albicore (1791). John launched the brig Maria in 1811. |
| Tubman Carter | 1809-1818 | Launched eight ships between 1809 and 1818, including the brigs Elizabeth and Henry (both 1809) |
| Wood, Peile and Co. | 1811-1825 | Launched the first copper-bottomed boat, the Victory, burthen 219 tons in 1811. Presumably connected with Thomas Peile. |
| Henry Millward | 1811-1817 | Launched four vessels including Blucher of 224 tons in 1814 and Albion of 186 tons in 1817. Joseph Scarrow (1st Mate, Master) and William Scarrow (1st Mate) sailed in both these vessels. |
| Key, Carr and Co. | 1811-1822 | Launched the brig Harrington in 1813 and the brig Eleanor in 1814. |
| James Carr | 1818-1822 | Launched four vessels, including the Quebec Packet in which William Scarrow sailed. |
| Thomas Peile and William Peile | 1820-1835 | Thomas launched four boats from 1820-1825, and then William launched a good deal from 1826 to 1835 under the name of Peile and Co. |
| Williamson & Co. | 1839-1879 | Founded by Richard Williamson, they launched their first vessel from Harrington in 1839, the Union, of 64 tons burthen. He was later joined by his younger brother William. Williamsons had two covered sheds, allowing work to continue during poor weather. Williamsons produced 73 vessels until the firm moved to Workington in 1879. The move to Workington was driven by the evolution of ship construction from timber to iron and steel, and Workington had several iron works. |