The Scarrows, Master Mariners of Cumberland
The Scarrow's of Cumberland include in their number five Master Mariners, one Chief Engineer and one Apprentice in the Merchant Navy. The master mariners were all in command of sailing vessels between the years 1763 and 1871. The engineer worked on steamers between 1905 and 1940. They were all (except John of Whitehaven) born in Harrington, though operated out of numerous other ports including Whitehaven, Workington, Liverpool, Glasgow and London.
All but one of the mariners (John Scarrow, active in Whitehaven 1763-1769) are directly connected to the Cumberland Scarrows. John Scarrow is probably connected as well, but the records so far discovered leave too many gaps to be absolutely certain. The family tree below shows how the remaining mariners were all from the same family, spanning three generations. The mariners are depicted in green boxes. Some of the boxes, including all of the mariners, will open a new page on that person.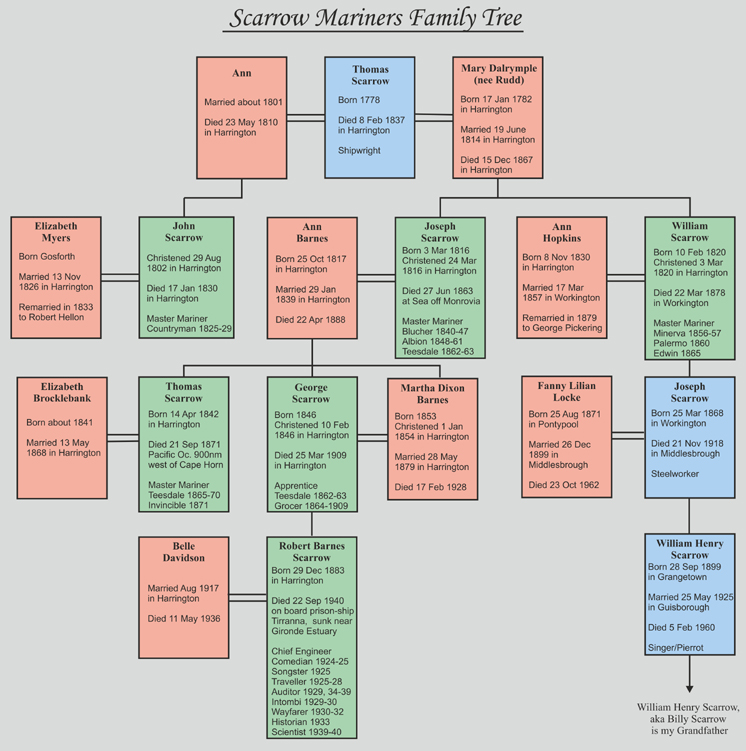 George Scarrow, Apprentice
George Scarrow, the younger brother of Thomas Scarrow (Master Mariner) had a brief flirtation with the sea, enrolling as an apprentice on the barque Teesdale which was under the command of his father Joseph. He undertook a return voyage to Colombo, but didn't appear on any subsequent crew lists.
Later he worked as a grocer in Harrington. George's brief voyage record is shown below:
| Rank | Ship | From | Dep | To | Arr | Passage | Remarks |
| --- | --- | --- | --- | --- | --- | --- | --- |
| A | Teesdale | London | 23 Apr 1862 | Colombo | | | Master Joseph Scarrow. |
| A | Teesdale | Colombo | | London | 3 Mar 1863 | | |