Robert B. Scarrow's engagement with KMS Atlantis 1940
Robert Scarrow was Chief Engineer on SS Scientist when it was engaged by the German raider KMS Atlantis. Robert was then caught up in the subsequent events involving five vessels, which unfortunately cost him his life.
The Scientist
On May 3, Atlantis met a British freighter, the Scientist, which was carrying ore and jute. The Germans raised their battleflag and displayed signal pennants stating "Stop or I fire! Don't use your radio!" The 75mm gun fired a warning shot.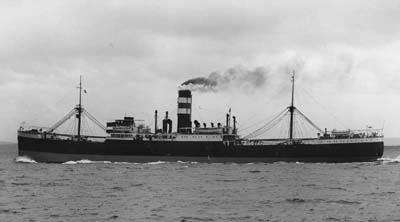 The British immediately began transmitting their alarm signal, "QQQ...QQQ...Unidentified merchantman has ordered me to stop." and the Germans began transmitting so as to jam the signals.
The Scientist turned to flee, and on the second salvo from Atlantis, flames exploded from the ship, followed by a cloud of dust and then white steam from the boilers. A British sailor was killed and the remaining 77 were taken as prisoners of war. After failing to sink the ship with demolition charges, the crew of KMS Atlantis used their guns and a torpedo to finish off the Scientist.
KMS Atlantis
The raider KMS Atlantis, also known as Schiff (Ship) 16, was the first to prowl the sea lanes. Atlantis, or ''Raider C', had been built in 1938 as MV Goldenfels by Bremer Vulkan, a 7,862-ton general cargo ship owned by the Hansa Line. On 30 November 1939, having been armed with six 150mm guns from the old 1906 battleship Schlesien, one 75mm bow gun, two twin 37mm and four 20mm guns, as well as four torpedo tubes and two Heinkel He 114B seaplanes, she was commissioned into the German Navy and assigned to captain Bernhard Rogge. After leaving Kiel on the 11th March 1940 and making a daring escape into the Atlantic set out on her 622 day long cruise, the longest of all the raiders.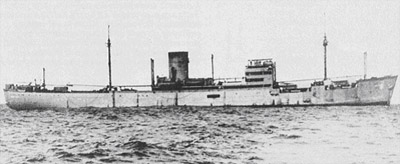 Taking on many disguises to resemble neutral vessels, including the Soviet "Kim", the Japanese "Kasii Maru" (which was not successful even though some crewmen dressed as Japanese men and women), and later the Dutch freighter "Abbekerk", the Norwegian freighter "Tamesis" etc., Atlantis sank her first victim, the British freighter Scientist, on the 3rd May 1940 in the South Atlantic. Then on the night of 10 May 1940 Atlantis laid her 92 mines off Cape Agulhas in South Africa. However, one mine exploded prematurely on 15 May and the Royal Navy promptly swept the minefield. Afterwards Rogge headed east into the Indian Ocean to patrol the Durban-Australia track, with no success. Later Rogge switched to the intersection of the Durban-Batavia and Mauritius-Australia routes, this time with some results.
Atlantis spent the rest of 1940 in the Indian Ocean, where she captured or sank her second to sixteenth victims. Rogge's crew put together half of the British merchant code, and his pilot perfected the skill of tearing off the victim merchantman's aerials with a trailing hook. The bored men on Atlantis befriended their captives, sharing the same uncertain fate of the raider and usually the same meals. For example, the Germans called the Chinese sailors Lung, Chan and Fong Krischman, Franz and Willi respectively. On the 13th victim, the British freighter Automedon, Rogge found some extremely important papers including a British War Cabinet report outlining the empire's defense system in the Far East. Rogge sent the documents to Japan, and, after the fall of Singapore, received a samurai sword from Emperor Hirohito, thus becoming one of only three Germans to do so (the other two being Herman Göring and Erwin Rommel). Atlantis and her men then stayed in the Kerguelen Islands in the Indian Ocean, the raider grounded while nearing land, resulting in some nervous and tense moments. Operations continued in January 1941. Atlantis netted more victims, but life on board was tedious and routine. Crew morale was high nonetheless, except for a group of Nazis, who, according to Rogge's adjutant Dr. Ulrich Mohr, inclined to show some socialist characteristics.
Atlantis rendezvoused with some supply ships and an Italian submarine. On 8 April she returned to the Atlantic, where she got her next five victims. On the night of 17th April, Atlantis' men got a bad scare when the British battleship Nelson and carrier Eagle, unaware of the raider's presence, brushed by within 7,000 yards.
On 6 August 1941, Atlantis ventured into the Pacific Ocean, where she found only one prize. The raider crossed the Pacific and Indian, and was supplying U-126 in the Atlantic when she was jumped by the cruiser HMS Devonshire. Rogge was outranged and did not fire a shot so the true identity of his ship would not be disclosed. HMS Devonshire sank the Atlantis on the 22nd of November 1941. The survivors, including former captors and captives, were left stranded due to report of a U-boat nearby. Later they were picked up by the German supply ship Python, which was suck also when again supplying U-boats. The submarines rescued the survivors, and were later joined by some Italian submarines. By 29 December 1941, all submarines returned to St. Nazaire with Rogge and his men.
MS Tirranna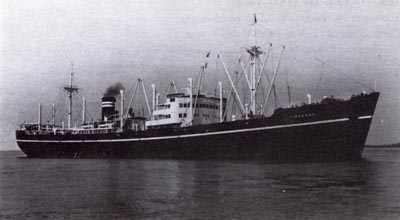 Spotted by Atlantis on 10th June 1940, southeast of Mauritius, while on a voyage from Sydney and Melbourne to Mombasa and the UK, with a cargo of flour, wheat, wool, mail and 178 military vehicles. She had just had a gun installed in Melbourne and five of her crew had been trained in its use. There were 44 people were on board, including 9 passengers, all Norwegian.
When what appeared to be the Dutch ship Abbekerk approached, no-one on Tirranna suspected imminent danger, not even when the foreign ship was just 5400m away, until suddenly a shot was fired. The captain proceeded at full speed (17 knots), while the gun crew ran to their posts and the Radio Operator sent out a distress call. As the distance increased over the next three and a half hours they had hopes of escaping, but the pursuing ship got in a direct hit, killing the five gunners on their posts, and it soon became obvious that Tirranna's speed could not save her after all. After further intense shelling from the cruiser (39 salvos and 150 shots), the attempt at escape was abandoned, though the distance between them had been extended to 8200m. Tirranna stopped, Rogge stopped the firing and the Tirranna was boarded. The injured men were transferred to the Atlantis, where they got excellent medical care, but one of them, Carpenter Johansen, could not be saved.
Captain Gundersen, pale and in shock from having lost five of his men was extensively questioned by Rogge. In spite of what he had just been through he answered the questions in a composed manner, a true seaman "as only Norwegians can be" according to Rogge himself. Tirranna was damaged, but not seriously, so after most of her complement had been transferred to the prisoners' area on Atlantis, Rogge decided Tirranna's valuable cargo would be of use in Germany. In addition to the wheat, flour, wool and vehicles, she also had 5500 cases of beer, 367 cases of tobacco, 3000 cases of canned peaches, jam, soap, chocolate, cigarettes, shoe polish, ham and cheese. They also took other things that were considered of value, such as copper and brass items. Additionally, some confidential papers were found, so all in all Rogge's second catch was a valuable one. He placed a prize crew on board under the command of Leutenant Waldemann, and ordered him to proceed further south and wait for orders, whereupon the two ships parted company. Eight of Tirranna's own crew also remained on board.
Captain Gundersen's report presented at the maritime hearings states that Atlantis subsequently went on the lookout for a tanker so that she could get enough oil to send Tirranna to Europe, but though she captured two British ships, City of Bagdad, Kemmendine, neither of which were tankers, she met up with Tirranna again on July 29 and transferred some of her own oil to the Norwegian vessel. The two ships were together for a few days, until they on the 2nd August, they spotted a Norwegian tanker, Talleyrand. By this time, the Atlantis had so many prisoners on board it became necessary to move some of them. On 4th August, 264 men were transferred to Tirranna, which was sent to France the next day. She proceeded through The Indian Ocean, around South Africa, into the Atlantic and the Bay of Biscay without mishaps, but on 22nd September as she was approaching the Gironde Estuary she was spotted by the British submarine HMS Tuna. HMS Tuna was on patrol in the area, and sent 3 torpedoes into Tirranna, sinking her. Of the 292 people on board, 87 died, among them nine British. The survivors spent 3-4 hours clinging to debris before they were eventually rescued by German vessels.
HMS Devonshire
Nine days after leaving Simonstown, at 0710 on Saturday 22nd November, some 1,000 miles west of Gabon, the observer in the cruiser's Walrus aircraft sighted a suspicious merchant ship to the west. Devonshire immediately altered course to close the position and 50 minutes later the merchant ship was sighted. By this time the aircrewman had given a description of the ship and after consulting the weekly intelligence report and a copy of the 23rd June 1941 issue of Life magazine, it was strongly suspected that the ship was the German armed raider Atlantis , or 'Raider C' as she was known to British Intelligence. The ship's frequent alterations of course deepened suspicions in the minds of those on Devonshire's bridge.
On the 22nd November, Atlantis had been ordered to rendezvous with, and fuel, U126, which is what she was doing when found by Devonshire. Although the submarine made an emergency dive there was no escape for Atlantis.
Once Devonshire was within sight of the merchant ship, to frustrate any submarine attack, she manoeuvred to keep a distance of between 12,000 and 18,000 yards away, maintaining a speed of 26 knots with frequent alterations of course. Devonshire signalled the merchantman to stop and to identify herself but no reply was received. Instead she hoisted the 'L' flag meaning, 'Stop, I have something to communicate' and the 'MT' flags meaning, 'My engines are stopped'. Apart from this she refused to answer any signals. At 0837 Devonshire fired two 8-inch salvoes to the left and right of the ship, hoping to provoke either a return of fire or to induce her to abandon ship. At 0840 Atlantis transmitted a raider report in the form 'RRR RRR RRR de Polyphemus', a Dutch merchant ship which, eight weeks earlier, had called at Balboa. By 0934, however, Devonshire had received confirmation that this was false and a minute later, at a range of 17,500 yards, the cruiser opened fire with her main armament. Devonshire's fourth salvo hit Atlantis's No 2 hold, setting it on fire and subsequently blowing up the magazine, and by 0939 Atlantis herself was on fire and sinking. At 1014 there was a heavy explosion and two minutes later the raider sank. With the strong possibility of a U-boat in the area there was no question of stopping to rescue survivors and two days later Devonshire returned to Freetown.
British Submarine Tuna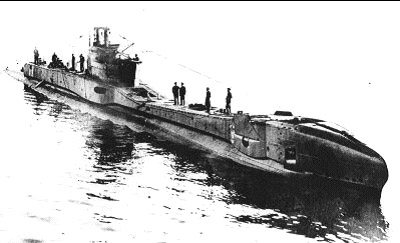 HMS Tuna (N94) was a T-class submarine of the Royal Navy. She was laid down by Scotts, Greenock and launched on the 10 May 1940. She was equipped with German-built engines and spent her career in World War II in western European waters, in the North Sea and off the west coast of France. She took part in many war patrols and her crew received service medals for the boat's destruction of several U-boats.
As the Tirranna was approaching the Gironde Estuary she was spotted by the British submarine HMS Tuna. HMS Tuna was on patrol in the area, and sent 3 torpedoes into Tirranna, sinking her. Of the 292 people on board, 87 died, among them nine British. The survivors spent 3-4 hours clinging to debris before they were eventually rescued by German vessels.
To view the next page about Robert Barnes Scarrow which deals with his voyage record, click here.