Joseph Scarrow, Master Mariner
Joseph Scarrow was the second of the Scarrow brothers to go to sea and was probably inspired by his older brother John, who left his navigation instruments to him in his will.
Joseph was born 24 March 1816 in Harrington to Thomas Scarrow, shipwright and Mary. Joseph had an elder brother John, a younger brother William, and a sister Jane. When John, a Master Mariner, died in 1830, he passed his sailing equipment onto Joseph. A year later, in 1831 at the age of 15, Joseph started as an apprentice on the brig Hope, sailing on numerous voyages between Whitehaven and North America. After finishing his apprenticeship in 1836, Joseph was promoted directly to Mate on the same vessel, and continued to sail on similar routes.
April 1845: Got on the Steelsand, April 17th 1845, but came off after discharging part of her cargo.
February 1850: The Albion, Scarrow, of Harrington, from Dublin, was driven on shore when trying to make the harbour, and was with great difficulty got off next day.
October 1856: The Albion, Scarrow, from Demerara to Workington, went on shore at Ravenglass, 30th Oct.
On 29 January 1839, Joseph married Ann Barnes in Harrington. Later that year Joseph transferred to the snow Blucher as Mate, which, although registered at Whitehaven, undertook voyages from Liverpool or Glasgow to the Caribbean. During a stop in St. Thomas in 1840, the Blucher's Captain, William Brown, died along with several other crew, and Joseph took command of the vessel for its voyage back to Glasgow. A more detailed account of this voyage can be seen here.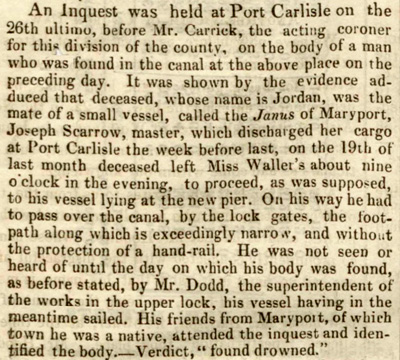 Blucher was a reasonably large vessel at 224 tons, and from the crew lists, would typically sail with a crew of 14. During his time as master of Blucher, his younger brother William was employed as Mate, and together they undertook many voyages to the Caribbean, South America and South West Africa.
Also in 1840, Joseph appeared in a news article (left) in which he is stated as being the Master of the vessel Janus. This is not corroborated by any other information we have found so far - but it is conceivable that he was briefly Master of Janus before resuming his association with Blucher.
In this period, Joseph had three children, a son Thomas born 1842, a daughter Jane born 10 December 1843 and another son George born 10 Feb 1846. George's twin William died at birth.
Joseph remained the master of Blucher until 1848 when he purchased a new ship, the brig Albion. Albion was a slightly lighter vessel at 180 tons, but still required a crew of 14. It had a single deck, 2 masts, and was brig rigged with standing bowsprit. It had a woman's figurehead at the bow and a square stern.
Between 1845 and 1849, Joseph sailed as Master with his brother William (mate) on the snow Blucher, and latterly the brig Albion. They undertook six consecutive return voyages together, to the Caribbean and Canada, as well as a little home trade.
Joseph sailed the Albion continuously until 1862, predominantly on trips to the Caribbean, but also with occasional voyages to Canada, Brazil and Argentina. He increasingly departed from Liverpool or London, where presumably the cargos attracted a higher premium. Typical exports from the Caribbean ports would include sugar, rum and coffee, with manufactured goods sailing from Britain.
Certification of mariners was formalised in the early 1850s, with masters, mates and engineers now requiring qualifications in order to hold positions of responsibility on merchant vessels. For existing masters, rather than sit exams, a certificate could be obtained by showing experience relevant to the position applied for. For successful applicants, this would result in the issue of a Certificate of Service shown below: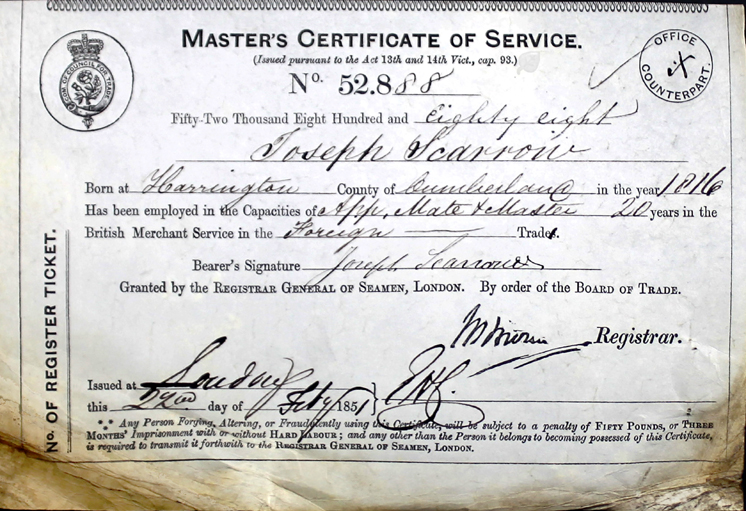 Joseph had four further children, Mary Ann, born 28 January 1849, Mary, born 25 December 1850, Sarah Ann, born November 1853 and Ann Barnes, born 16 September 1857. Unfortunately, only Mary lived beyond early childhood.
Between 3 Oct 1861 and 3 Nov 1861, James Wilson acted as Master with Joseph Scarrow the owner. On 2 Nov, John Lewin became Master. The vessel was employed in the Coal trade between Workington/Whitehaven/Maryport and Dublin and the half-yearly contract terminated on Dec 31 1861.
In 1862, Joseph bought a new ship, the barque Teesdale, which at 330 tonnes was almost twice the size of Albion.

With this vessel, he sailed east from London to China. On 27 June 1863, during only his second trip on Teesdale, to Penang, Joseph died due to the effects of drink. He was aged 47. Surprisingly, there existed a Mechant Seaman's Fund, so his widow Ann received some money from the state after Joseph's death.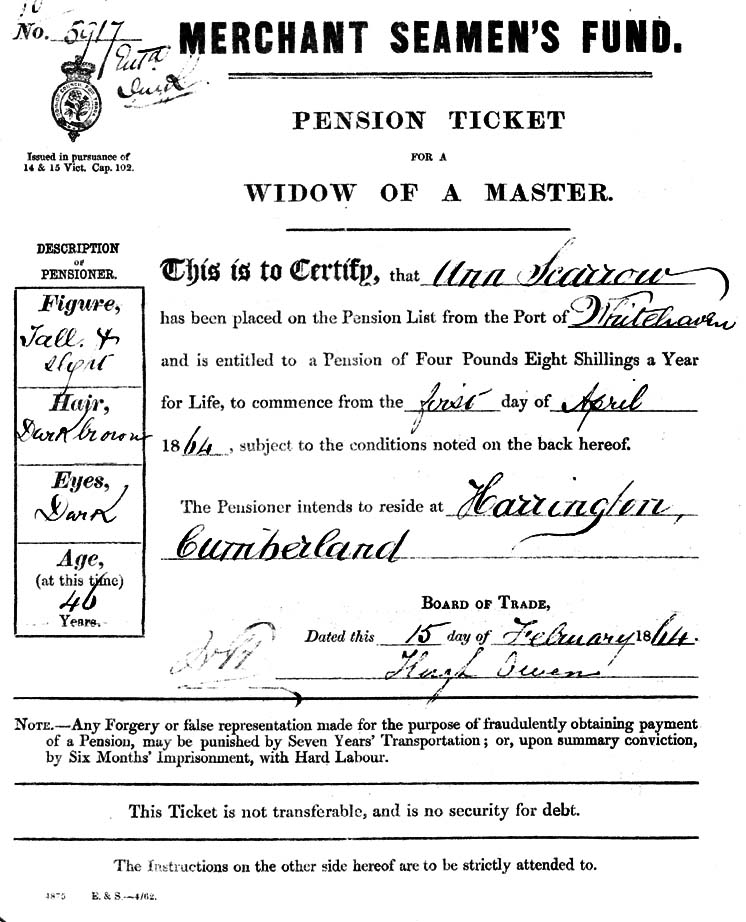 To view the next page about Joseph Scarrow which deals with his certification, click here.