Galveston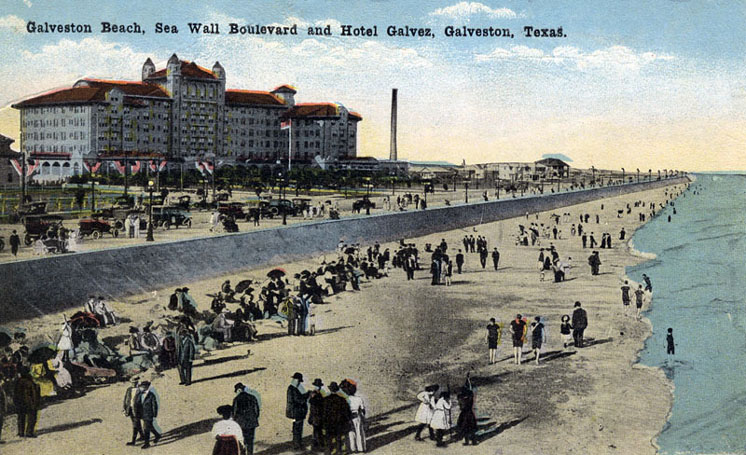 History
Galveston was named after Bernardo de Gálvez, a Spanish colonial governor and general. Galvez sent Jose de Evia to chart the Gulf of Mexico from the Texas coast to New Orleans, and on July 23, 1786, de Evia charted an area near the mouth of a river and named it Galveston Bay. Later, the island and city took the same name. Bernardo de Gálvez died the same year, never setting foot on his namesake island.
The pirate Jean Lafitte arrived on the Island in 1817, making it his base of operations and naming it Campeche. The little village contained huts for the pirates, a large slave market, boarding houses for visiting buyers, a shipyard, saloons, pool halls, gambling houses and Lafitte's own house, the "Maison Rouge." At one point, Campeche was home to about 1,000 people.
General James Long attempted to recruit Lafitte to help make Texas independent from Spain and Mexico, but Lafitte remained neutral. In 1820, Mexico won independence from Spain, but Lafitte stayed on the Island. In May 1821, after Lafitte's attack on an American ship, he was forced to abandon his operations in Galveston. Before leaving, he hosted a huge party for his pirates with wine and whiskey and burned his settlement. It is believed that he had buried treasure on the Island, but it has never been found.
In 1821, Jane Long, while waiting in vain for the return of her husband General James Long, who had been killed in Mexico, became "The Mother of Texas" giving birth to the first Anglo-Saxon native Texan, Mary Jane Long on Bolivar Peninsula.
In 1836, four ships of the Texas Navy made headquarters on the Island and protected the Texas coast from harassment by the Mexican Navy. These ships prevented supplies and men from reaching Santa Anna, ensuring a victory for Sam Houston's army at San Jacinto, 22 miles northwest of Galveston.
In 1836, Michel B. Menard, a native of Canada, purchased a "league and labor" of land for $50,000 from the Austin Colony, and established the City of Galveston. Galveston started with an area of seven square miles. Menard needed additional money to promote the town and formed the Galveston City Company with nine other men. These men were Gail Borden, Jr. (publisher of the Telegraph and Texas Register and inventor of condensed milk); Samuel May Williams (former secretary to Stephen F. Austin and successful merchant); Thomas F. McKinney (Williams' mercantile partner and an early cotton trader); William H. Jack (Texas patriot and distinguished statesman); A.J. Yates (loan commissioner for the Republic of Texas); John K. Allen (a founder of Houston); Mosley Baker (lawyer and patriot); James Love (eminent jurist and successful planter) and David White (an investor from Mobile, Alabama).
The Congress of the Republic of Texas made Galveston a port of entry in 1837 and appointed Gail Borden as Collector of Customs; the first customs house had been opened in Galveston in 1825. Several prefabricated houses arrived from Maine in 1837, one belonging to Augustus Allen, which was sold to Michel Menard in 1839. Two of these prefabricated houses owned by Galveston's founding fathers still stand - the Michel B. Menard Home (1838) and the Samuel May Williams Home (1839).
The land that is now Galveston was part of the original Austin Colony, but Menard and his associates bought the site from the Republic of Texas. Town lots were made available in 1838, and the city was incorporated in 1839. Galveston's harbor became an active port with ships from all over the world bringing their goods here. Since Congress had not approved chartered banks, financial transactions were handled by mercantile firms. The Strand, named after a street in London, was filled with wholesalers, cotton agents, paint, drug, grocery, hardware and dry goods stores and insurance companies. The Strand became known as the "Wall Street of the Southwest" for the largest and most important wholesale houses west of the Mississippi River. Between 1838 and 1842, 18 newspapers were started. The Galveston News, founded in 1842, is the lone survivor and is now published as The Galveston County Daily News. Progress continued and a bridge to the mainland was finished in 1860. The bridge opened the opportunity for railroad expansion.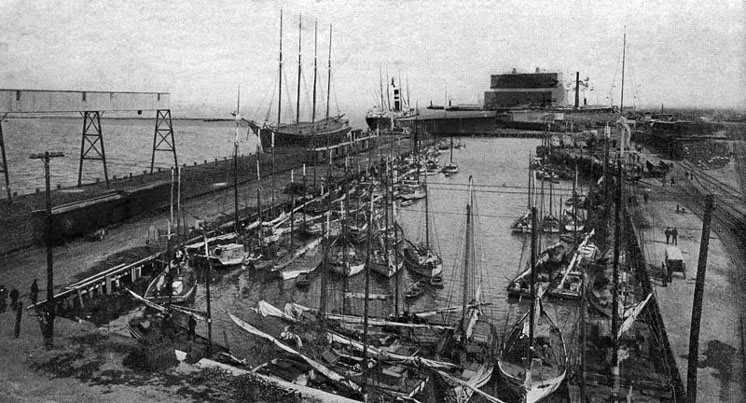 Galveston's prosperity suddenly came to a halt on September 8, 1900, when the deadliest natural disaster in United States history hit Galveston Island. A storm with winds exceeding 120 miles per hour and tidal surge devastated the island and killed more than 6,000 people. At the time of the 1900 Storm, Galveston had a population of 37,000 and was the fourth largest city in Texas following Houston, Dallas and San Antonio and the most sophisticated city in Texas. One-third of the city was completely destroyed, more than 3,600 buildings. The bodies were too numerous for conventional burials. At first, they were weighted and buried at sea; later they washed ashore. From that point on they were burned on funeral pyres all over the city. The dead were uncovered at a rate of 70 per day for at least a month after the storm.
To prevent such a natural disaster from devastating the island again, the city built a seawall seven miles long and 17 feet high and began a tremendous project to raise the level of the island. Galveston's seawall now extends 54,790 feet, 10.4 miles, and covers one-third of Galveston's Gulf side. Total cost of the construction of all parts of the seawall was $14,497,399. The original seawall was 15 feet thick at the base, five feet thick at the top, 17 feet high and weighed 40,000 pounds per foot.
Thousands of structures were jacked up during the grade raising while dredges poured 4 to 6 feet of sand beneath them. In other cases, (such as Ashton Villa) the fill was pumped into the raised basements.
Residents used elevated wooden sidewalks to walk through town. The grade-raising project began in 1902 and was completed in 1910 and included more than 500 city blocks.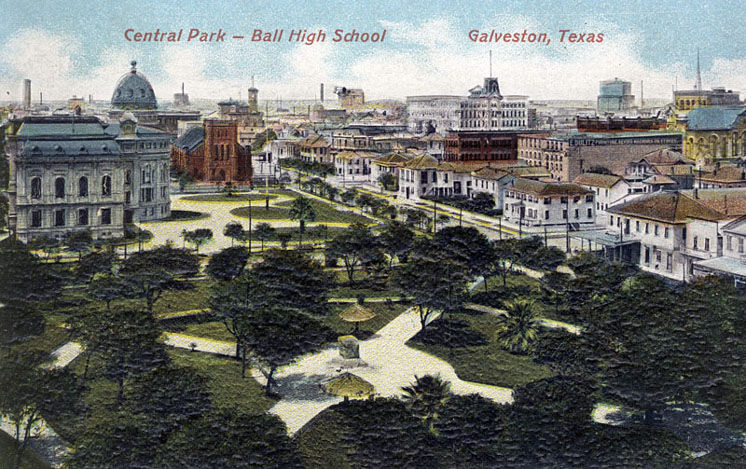 Galveston overcame the devastation to become a top resort city. One of its greatest attractions was the annual Pulchritude of Beauty Pageants, between 1920 and 1932. During the 1920s through the 1940s, Sam Maceo's famous nightclubs, the Balinese Room and the Hollywood Dinner Club, were host to such performers as Phil Harris, Paul Whiteman, Guy Lombardo, Duke Ellington, Freddy Martin, Frank Sinatra, Peggy Lee, and Jimmy Dorsey. Phil Harris and Alice Faye were married by Judge Piperi at the Galvez Hotel. Galveston's own Badgett quadruplets were the flower girls for the wedding. Galveston attracted people from all over the nation with great dining, big name entertainment, roulette, blackjack, craps tables and slot machines. This era ended in 1957 when the Texas Rangers raided the city and closed all the illegal gambling spots.

Imports
| Goods | Place of Origin |
| --- | --- |
| Tin Ore | |
| Sugar | Caribbean |
| Bananas | |
| Tea | China |
| Machinery | Britain |
Exports
| Goods | Destination |
| --- | --- |
| Cotton | Britain |
| Cotton Seed Oil | |
| Hides | |
| Wheat | |
| Molasses | |
| Sulphur | |
| Cattle | |
Industry
| Port Industries | Other Industries |
| --- | --- |
| Ropery | Flour Mills |
| | Bagging Mills |
| | Iron Foundery |
Scarrow Associations
| Scarrow | Period |
| --- | --- |
| Robert Scarrow | 1908, 1911, 1918-20, 1926, 1930, 1934 |