Joseph Scarrow, Master Mariner: Certificates and Claims
This section details the certificates, and claims for these certificates of Joseph Scarrow. The certificates themselves do not give a great deal of information, but the claims show a summary of the service of the mariner up to that point - in the case of Joseph, the claim shows a summary of his voyages between 1831 and 1851.
Masters Certificate of Service
The original Certificates of Service were produced in duplicate, one of which was retained by the mariner, and the other which kept by the ministry and today referred to as the office copy. The latter certificate is held by the National Maritime Museum, and digital copies can be viewed on ancestry.com. Joseph's certificate is shown below: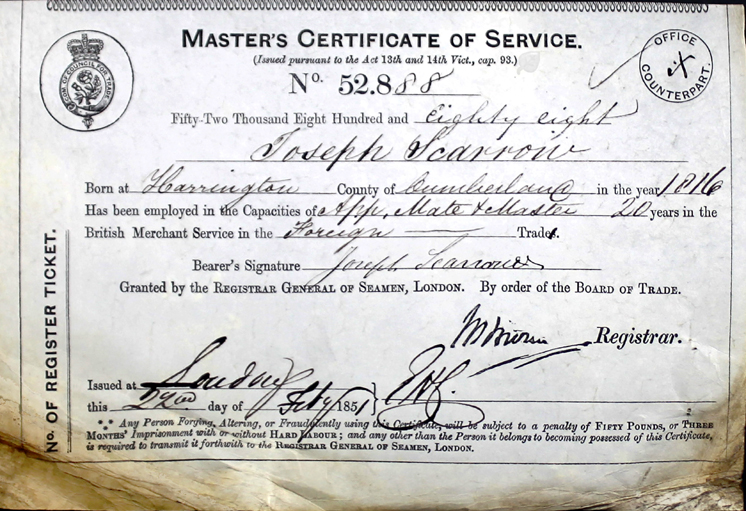 In order to obtain the certificate, the mariner had to show some proof of his experience and collate this into a claim. This claim has also been preserved at the National Maritime Museum, and Joseph Scarrow's is shown here: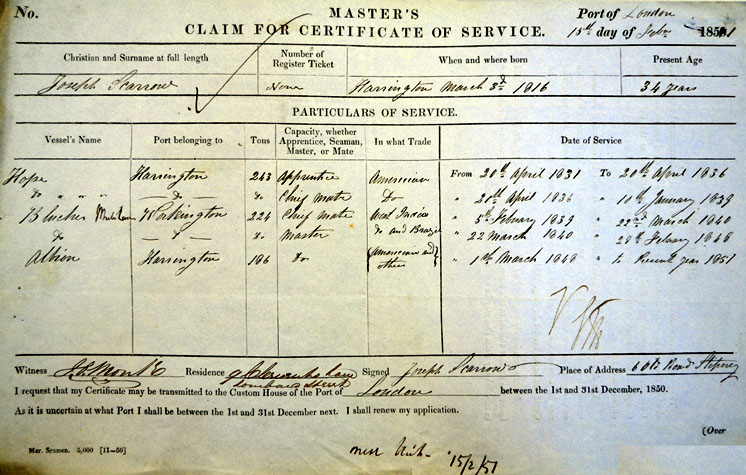 In 1851, Joseph had the certification of Master, and this took him through the remainder of his career in the Merchant Service, until his death in 1863 at the age of 47.
To view the next page about Joseph Scarrow which deals with his voyage record, click here.